Elegant Stone Kitchen Backsplashes In Carrollton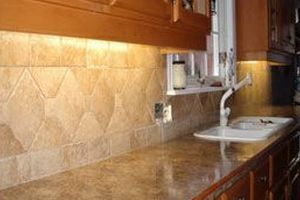 When you find yourself in need of a new kitchen backsplash to pair with your new granite, slate, or marble countertops, natural stone is an option that is definitely deserving of your consideration. Stone backsplashes are the natural pair to stone countertops, and can truly do wonders when it comes to adding that finishing touch to your Carrollton home's kitchen design. Here at Draper Floors, we are the local Carrollton flooring company of choice among homeowners who are looking to maximize the beauty and value of their homes, and that service extends to making sure that you have a wonderful new kitchen backsplash in your home to compliment your new flooring as well. We have a wide variety of different, high quality backsplash options available for you to choose from, so when you are ready to see the difference that quality can make when it comes to your home's kitchen design, give our team of professionals a call today and prepare to be amazed.
Here at Draper Floors, we have over ten years worth of experience in helping local homeowners just like you find the perfect new kitchen backsplash options to help them transform their old kitchen in the the kitchen of their dreams. Our team of professionals will work with you directly to get a solid idea of what you are looking to accomplish in your kitchen, and make recommendations as to which options are going to give you the look you are going for, and which ones are going to pair with your existing decor the best. If you have any questions about our full line of high quality natural stone kitchen backsplash products or services, or if you would like to schedule an appointment for consultation with one of our specialists, give us a call today. Our team of experts are always standing by and would be more than happy to assist you in any way we can.
Stone Kitchen Backsplash Pros
When it comes to high quality kitchen backsplashes, there are few options out there that can provide you with the same level of visual appeal and sheer durability that you can get from natural stone. Stone backsplashes are available in a wide variety of different colors, sizes, and styles, and they are particularly effective at pairing with stone countertops to help highlight their beauty and enhance the overall look and feel of your kitchen space.
Recent Articles
Carpet Type and Fiber Guide Provided by Carrollton Flooring Experts
One of the most important features of your living spaces is its flooring. For your living room and bed rooms, no flooring option creates an inviting and comfortable feel better than carpets. When you install new carpets in your home, you and your family can enjoy your property to the utmost. This highly versatile, beautify
Read More
Bathroom Remodeling Ideas For Carrollton, Texas Showers & Tubs
When it comes to bathroom remodeling ideas for showers and tubs, you can't get better advice than from the professionals at Draper Floors. In all ways possible, we love to help our customers get the information they need to make decisions for Carrollton bathroom remodeling. Remodeling gives you a great opportunity to have a new
Read More