Smooth Plank Wood Flooring in Carrollton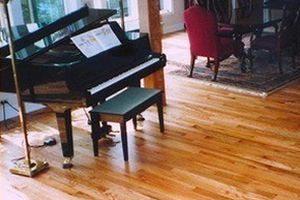 When you are looking for a timeless and elegant flooring solution for your home, there are a number of different options out there for you to choose from, but there are few things that embody elegance like hardwood flooring. Even among hardwood flooring, there are a number of different styles, wood types, finishes, and such available for you to choose from, but in terms of sheer elegance and style, it is difficult to find an option that can match smooth plank wood flooring. Here at Draper Floors, our team of Carrollton flooring professionals can help you find and install the perfect new smooth plank wood flooring option for your home to help you create that elegant interior design that you've always wanted for your home. When it comes to your home's flooring service needs, we believe that you should never have to settle for anything less than the best, and when you make the call to our team of experts here at Draper Floors, you never will.
Here at Draper Floors, our team of Carrollton flooring pros have the skill and experience necessary to help you find the new flooring options you've been searching for, and give you a quality installation that you and your family will be able to enjoy for many years to come. With our team of professionals on hand to help, you don't have to worry about feeling overwhelmed by all of the various options flooring options in front of you, as our experts will work with you directly to identify what it is you are trying to accomplish in your home, and make recommendations and suggestions that will help you bring your vision to life. If you have any questions about our full line of high quality smooth plank wood flooring options or services, or if you would like to schedule an appointment for consultation with one of our specialists, give us a call today. Our team of experts are always standing by and would be more than happy to assist you in any way we can.
Smooth Plank Wood Flooring Pros
Smooth plank wood flooring, like the name implies, is a type of wood flooring that has been sanded down to an extremely smooth finish, and can be found in both high and low gloss options depending on what you are looking for in terms of your home's interior design. Smooth plank wood flooring is one of the most classic looks for hardwood flooring, and is quite popular among homeowners all over the country. Like most other types of hardwood flooring, smooth plank wood flooring is available in a wide array of different wood types, styles, colors, and plank sizes to help you customize the look of your new floor and help you attain something unique for your home's design. With it's classic look and appeal, smooth plank wood flooring pairs very well with a number of other floor types throughout your home, including plush carpeting and porcelain tile flooring.
Recent Articles
Carpet Type and Fiber Guide Provided by Carrollton Flooring Experts
One of the most important features of your living spaces is its flooring. For your living room and bed rooms, no flooring option creates an inviting and comfortable feel better than carpets. When you install new carpets in your home, you and your family can enjoy your property to the utmost. This highly versatile, beautify
Read More
Bathroom Remodeling Ideas For Carrollton, Texas Showers & Tubs
When it comes to bathroom remodeling ideas for showers and tubs, you can't get better advice than from the professionals at Draper Floors. In all ways possible, we love to help our customers get the information they need to make decisions for Carrollton bathroom remodeling. Remodeling gives you a great opportunity to have a new
Read More