Beautiful Handscraped Wood Flooring in Carrollton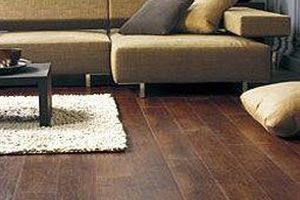 There are few flooring types out there that can provide you with the same level of elegance and beauty that natural wood flooring can, but despite what many homeowners might think, not all hardwood flooring is created equal. Here at Draper Floors, our team of Carrollton flooring professionals provide a number of different high quality natural wood flooring options to homeowners all over the local area, and by far, one of our most popular options is handscraped wood flooring. Handscraped wood flooring is a wonderful flooring option that goes well with a number of different interior decor choices and can provide a warm coordination with carpeting as well. Handscraped wood flooring is available in a wide variety of different plank sizes, wood types, and overall styles to ensure that no matter what kind of design you are trying to create within your home, there is an option available to help you achieve those design goals. When you are ready to see the difference that quality can make when it comes to your home's flooring, give our team of professionals a call today and prepare to be amazed.
Here at Draper Floors, we make it our mission to ensure that each and every one of our valued customers gets nothing but the best when it comes to quality of selection and quality of service for all of your flooring needs. For over ten years now, our team of Carrollton flooring professionals have been providing exceptional service to homeowners just like you, and we are ready to help you get the most from your home. If you have any questions about our full line of high quality handscraped wood flooring options, or if you would like to schedule an appointment for consultation with one of our specialists, give us a call today. Our team of experts are always standing by and would be more than happy to assist you in any way we can.
Handscraped Wood Flooring Pros
Handscraped wood flooring can be a wonderful flooring solution if you love the warmth and elegance of natural hardwood flooring, but you would like a little bit more texture to give your home more of that rustic feel. Handscraped wood flooring offers a unique style and appeal that can't be found with most hardwood flooring, and can provide you with that interior design focal point that you've been searching for in your home. Because of the sanding process that goes into creating handscraped wood flooring, you can rest assured that your home's new flooring isn't going to be something you see anywhere else.
See What Customers in Frisco are Saying About Us
Draper Floors is Rated: 5 / 5
based on this 1 happy customer review.
---
"We highly recommend Tim Draper at "Draper Floors". Tim's very professional approach to our hardwood floor installation began with my first phone call. He was very prompt and informative about wood origin, choices and colors. He was very thorough and followed up frequently during and after the installation. We are very satisfied with our flooring and enjoyed working with Tim."
---
Recent Articles
Carpet Type and Fiber Guide Provided by Carrollton Flooring Experts
One of the most important features of your living spaces is its flooring. For your living room and bed rooms, no flooring option creates an inviting and comfortable feel better than carpets. When you install new carpets in your home, you and your family can enjoy your property to the utmost. This highly versatile, beautify
Read More
Bathroom Remodeling Ideas For Carrollton, Texas Showers & Tubs
When it comes to bathroom remodeling ideas for showers and tubs, you can't get better advice than from the professionals at Draper Floors. In all ways possible, we love to help our customers get the information they need to make decisions for Carrollton bathroom remodeling. Remodeling gives you a great opportunity to have a new
Read More