Great Looking Carrollton Glass Tile Backsplashes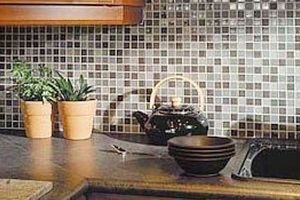 When it comes to high quality kitchen backsplashes, glass tiles are quickly becoming one of the most popular options among homeowners all over the country, and for a number of different reasons. Whether you realize it or not, a new backsplash can be a wonderful addition to your kitchen space and can provide you with just that opportunity that you've been looking for to update the space and bring it more in line with the overall design for your home that you've always wanted. Here at Draper Floors, we are the local Carrollton flooring company of choice among homeowners who are looking for the absolute best in service for their homes. If you have always been curious about just how a new glass tile backsplash can enhance the look of your kitchen, but have always been on the fence about whether or not it was a worthwhile investment, give our team of professionals a call today and let us show you the difference that quality can make when it comes to transforming your home's kitchen.
Here at Draper Floors, we have over ten years of experience in helping local homeowners just like you find the perfect new glass tile kitchen backsplashes they need to attain the kind of look they've always dreamed of for their home. Each and every one of our Carrollton flooring professionals are highly skilled, trained, and experienced in the field, and we know what it takes to make sure that your job gets done right and that the results are something you and your family will be able to enjoy for a long time to come. Our experts will work with you directly to identify exactly what it is you are looking for from your home's design, and present you with a number of different options that will help you accomplish your goals best. If you have any questions about our full line of high quality glass tile backsplash products or services, or if you would like to schedule an appointment for consultation with one of our specialists, give us a call today. Our team of experts are always standing by and would be more than happy to assist you in any way we can.
Glass Tile Backsplash Pros
When you are looking for versatility in terms of design for your next kitchen backsplash, there are few options out there that can provide you with the same variety of different colors, sizes, and even textures than glass tile. Glass tile is a very elegant, stylish, and stain resistant option for your kitchen backsplash, and because of its nonporous surface, you can simply clean it up with a little bit of water anytime it isn't looking its best. If you are looking for a great way to enhance the beauty and value of your kitchen space, a new glass tile backsplash might be just the option you've been searching for.
Recent Articles
Carpet Type and Fiber Guide Provided by Carrollton Flooring Experts
One of the most important features of your living spaces is its flooring. For your living room and bed rooms, no flooring option creates an inviting and comfortable feel better than carpets. When you install new carpets in your home, you and your family can enjoy your property to the utmost. This highly versatile, beautify
Read More
Bathroom Remodeling Ideas For Carrollton, Texas Showers & Tubs
When it comes to bathroom remodeling ideas for showers and tubs, you can't get better advice than from the professionals at Draper Floors. In all ways possible, we love to help our customers get the information they need to make decisions for Carrollton bathroom remodeling. Remodeling gives you a great opportunity to have a new
Read More