Guide to Choosing Flooring for Your Carrolton Home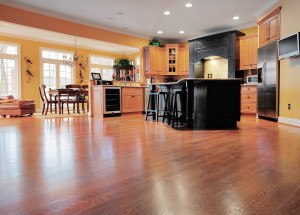 Installing new flooring throughout your home can be a rewarding and enjoyable experience. However, the decision as to which flooring to chose can be daunting without a little guidance. The flooring experts at Draper Floors have helped countless Carrolton homeowners navigate these difficulties to arrive at the flooring choice that best fulfills their goals.
The flooring installers and interior designers at Draper Floors understand that you need to choose a flooring material that you think looks great and that will best serve the particular manner in which you will use it. As a guide, they recommend the following considerations based upon which room you are re-flooring in your Carrolton home.
Choosing Kitchen Flooring
When you choose the flooring for your Carrolton kitchen, the two aspects that should be at the forefront of your mind are the durability of the flooring and its ease of maintenance. Linoleum, ceramic tile, and wood are all very durable and easy to clean on an everyday basis.
Linoleum is relatively inexpensive and comes in styles to match any kitchen interior design scheme. Ceramic tiles, albeit slightly more expense, have just as many style options but provide superior durability.
If you choose ceramic tiles, it is important to remember that they can be susceptible to cracking if not installed properly. The expert floor installers at Draper Floors can properly prepare your kitchen floor in order to completely remove the risk of cracking.
Wood has the benefits of both linoleum and ceramic tile, but homeowners have to make absolutely certain that they properly protect kitchen wood flooring. The kitchen is a moisture rich environment, and wood is particularly susceptible to water damage. The wood flooring specialists at Draper Floors can ensure that you choose wood flooring with the appropriate protective finish.
Choosing Living Area Flooring
The great thing about choosing flooring for the living area of your home is that it really comes down to choosing which flooring best suits your taste. The most common choices are carpet, tile, or wood flooring.
Carpet is a great choice in that it is an excellent insulator, so it will have a warm feel even during the winter. Likewise, the softness of carpet is great for family living areas where everyone lies around watching movies or playing games.
Once again, tile has the advantages of high durability and easy maintenance. Tile also has the style versatility to match any interior design scheme. Coming in so many options, the design specialists at Draper Floors can provide you with samples that could match your rustic or modern Carrolton living spaces.
The benefits of wood flooring are obvious. In addition to durability and ease of maintenance, the look of wood can be sophisticated, classic, elegant, or all three. Wood flooring provides better insulation that tile and stone. The experts at Draper Floors have a show room in which you can choose from a wide variety of beautiful would flooring options.
Recent Articles
Carpet Type and Fiber Guide Provided by Carrollton Flooring Experts
One of the most important features of your living spaces is its flooring. For your living room and bed rooms, no flooring option creates an inviting and comfortable feel better than carpets. When you install new carpets in your home, you and your family can enjoy your property to the utmost. This highly versatile, beautify
Read More
Bathroom Remodeling Ideas For Carrollton, Texas Showers & Tubs
When it comes to bathroom remodeling ideas for showers and tubs, you can't get better advice than from the professionals at Draper Floors. In all ways possible, we love to help our customers get the information they need to make decisions for Carrollton bathroom remodeling. Remodeling gives you a great opportunity to have a new
Read More