Backsplash Borders/Decos in Carrollton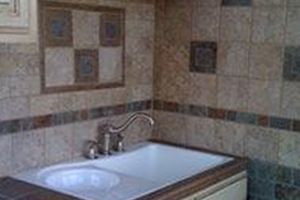 If you have an older kitchen backsplash in your home that you just aren't crazy about anymore, or you are just looking for something to bring a little extra spark of style to help freshen up your existing backsplash that you and your family still enjoy, our team of Carrollton flooring professionals here at Draper Floors can be of help. When your old kitchen backsplash starts to look a little dated, or just needs that extra little burst of color to help it pop again, it might be worth looking into the many ways in which you can accomplish this goal with brand new borders/decos for your existing backsplash. Simply put, borders/decos are decorative accents that can be used to frame, separate, and just overall customize your tile or stone backsplash and add a new design element to help freshen things up or to help break up certain designs and colors. When you are ready to see the difference that quality can make when it comes to your home's kitchen backsplash, give our team of professionals a call today and prepare to be amazed.
Here at Draper Floors, our team of Carrollton flooring professionals have over ten years of experience in helping homeowners just like you transform their houses into the homes they've always dreamed of, and a big part of that transformation process is in making sure that you have the various design elements you need to keep your home looking exactly like you want it to. Our team of professionals will work with you directly to help you find and install the tasteful tile borders and decorative accents that you need to bring your kitchen design to life and make it something uniquely suited to your home. If you have any questions about our full line of high quality borders/deco products or services, or if you would like to schedule an appointment for consultation with one of our specialists, give us a call today. Our team of experts are always standing by and would be more than happy to assist you in any way we can.
Border/Decos Specialists
When it comes to finding the right tile border or decorative accents to really make your kitchen backsplash pop, you want to be sure that you have the assistance of a team of professionals who have a history of delivering top quality work to all of their customers. Here at Draper Floors, we understand the importance of finding the right decorative accents to help you transform your kitchen backsplash into something truly unique that reflects your personality and your style. We can help you create borders out of stone, ceramic, or glass tile, or any combination of the three to make sure that your design is going to be something completely unique to your home. We can even mix and match colors if you have a pattern in mind that you would like to create, or to create a decorative focal point to draw attention right where you want it in the room.
Recent Articles
Carpet Type and Fiber Guide Provided by Carrollton Flooring Experts
One of the most important features of your living spaces is its flooring. For your living room and bed rooms, no flooring option creates an inviting and comfortable feel better than carpets. When you install new carpets in your home, you and your family can enjoy your property to the utmost. This highly versatile, beautify
Read More
Bathroom Remodeling Ideas For Carrollton, Texas Showers & Tubs
When it comes to bathroom remodeling ideas for showers and tubs, you can't get better advice than from the professionals at Draper Floors. In all ways possible, we love to help our customers get the information they need to make decisions for Carrollton bathroom remodeling. Remodeling gives you a great opportunity to have a new
Read More